This is not a new problem, either for me or for any of you. At the same, rather than having a workaround, the problem only seems to have gotten worse.
I'm out of space. The bar graph shows some HALF of the 32GB as "System Data".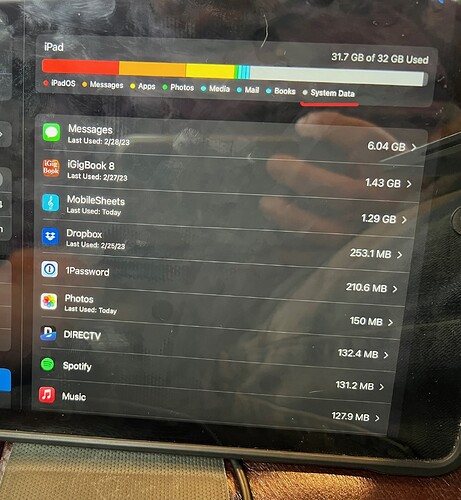 Note that this is distinct from the ~20% burned by "iPadOS". I don't even bother to try to keep my Photos or Music on here. You can see the paltry yellow segment used by my apps which are, ostensibly, the ENTIRE reason I own this device. And yet even those I've been slashing to try to recover functionality of my iPad, since everything is broken with space being full. These lousy photos of my glary, smeary screen are because I can't even perform a screen shot. And an iCloud Backup also failed, no doubt due to lack of local space, ironic as that is.
After jettisoning a bunch of apps, I got just enough functionality to do an iCloud Backup. But that just rewinded me to where I was 2 weeks back when I was in the same situation. I did the iCloud Backup because I was out of space, and my recollection was that the only way to recover the "System Data" space was to backup > erase > restore, which I did. As you can see, it didn't help.
So now what? The biggest hitter now is Messages, at 6GB. So I really have to toss Messages in order to get the most conservative use of my iPad? Fine, I'll do it. Oh shoot, it won't let me delete the app! It's one of those non-removable apps.
Well, if I enable iCloud on Messages, that should offload the media and less-recently-used messages to the Cloud, freeing up space on my device, right? Oh shoot, I have Messages already enabled in iCloud!
Well then maybe the logic is opposite? Maybe Messages is using MORE space by enabling iCloud. So let's turn iCloud off for Messages. Oh shoot! It wants to download all messages before it will let me do that! Obviously I don't have space for that.
Well, what in Messages is burning so much space? Let's look in iPad Storage.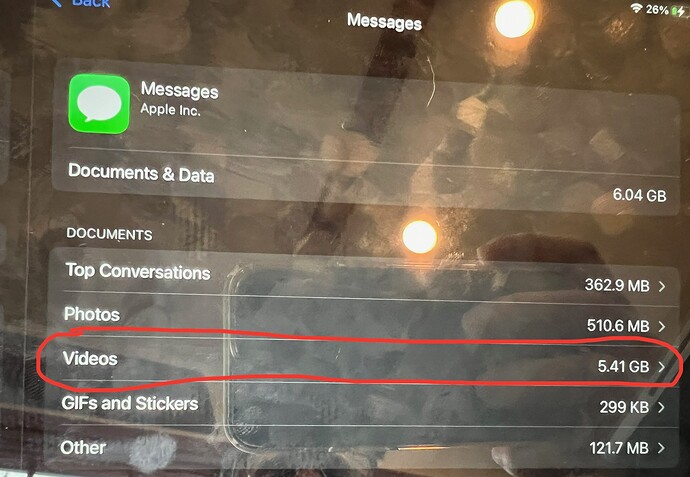 Looks like 5.4GB is burned by "videos". Well, any videos I need, I have already saved. Let's delete them all. Oh shoot! They're already all gone! (The fact is, there were some in there; not nearly 5.4GB worth; but anyway, I deleted them all hours ago, and the space has not recovered).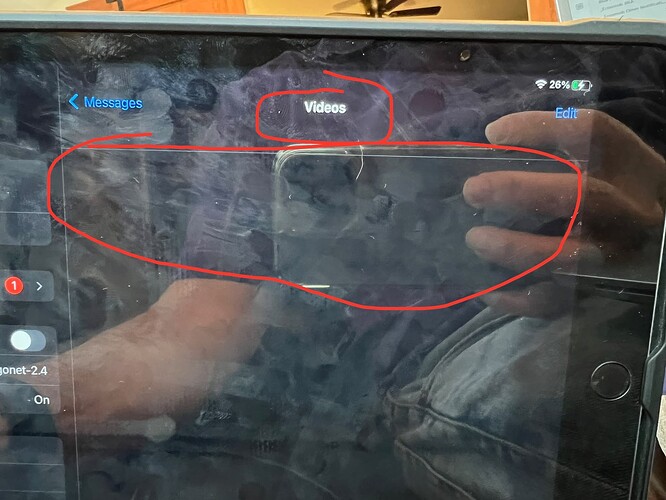 So 5.4GB is being used by… nothing?? And the situation with Messages Photos isn't much different.
I have also tried connecting iPad to iMac to backup the "full" style, but that fails because the iPad is full. There is also a 16.3.1(?) update pending for iPad that I tried to install, but that probably only made the space problem worse.
So dear friends, what the Finder am I supposed to do at this point??
The only thing I haven't done is to erase and NOT restore from backup, but rather to reinstall all my apps from scratch. This is not without risk, because it turns out that not all apps are cloud-ready. You will see iGigBook and MobileSheets there, and neither stores their data in the cloud. The latter at least has ways to sync and do backups at the application level, so I'm not too worried about that. iGigBook I'm stuck copying files, plists, and databases from the "Files" tab in the Finder to my iMac, while connected via cable. The hope is that putting all these back after I erase and start over will get me back to where I was, but that's a nerve-wracking uncertainty.
There's even a fresh article at Macworld on this topic:
But it's useless because a) my backup won't succeed because I'm full, and b) I already tried it and the space was not freed by doing this.
I will add that I was able to free up a surprising amount of space (~6GB) by turning off all the Analytics & Improvements options under Privacy (and then rebooting). Enough space to update iPadOS, in fact. But somehow, it was gone within an hour.
So before I take the plunge doing a completely rebuild from scratch with no restore, does anyone have any suggestions?