Hi folks!
Apple finally got me to try Apple Music, only because I needed 4TB of iCloud space, but that's a separate story.
So I've been unclear and nervous about how decades of songs would be treated (or abused) by their upload/match process. I have created Smart Albums to track at least 11 different iCloud Statuses for my tracks.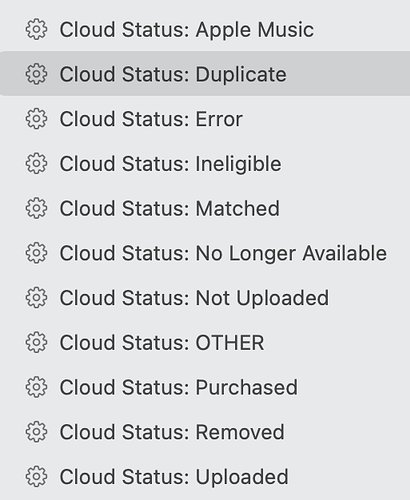 But let me focus on ones marked "Duplicates" since I'd like to resolve those and there are 103 of them.
When I select one and click the little iCloud icon, it provides more detail: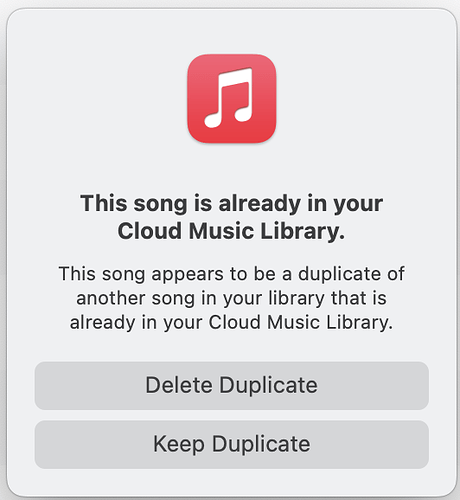 Nervous that it would do the wrong thing, I aborted and did some homework. And of course, I was skeptical about how it chose which of the 2(?) tracks as the one to be on the chopping block. I checked "Info" on the one standing on the gallows, and the File pointed to a local mp3 track. Then I went searching my library for the "other one", which had nothing under File other than iCloud Status = "Waiting".
Pretty sure Apple would make the wrong choice, I made a copy of my mp3, and then went back and chose the "Delete Duplicate" option, at which point, sure enough, it deleted the mp3 and left me with this non-playable track that (still) says Waiting.
So what's going on here? Are these tracks that should be "Uploaded", but never finished, and got stuck in an in-between state?
And what's the right solution here? Is there a "try again" feature, or should I go hunting for all the stuff stuck "Waiting", deleting, and then hope Music tries again so the track gets into the Cloud?