One of the things that really irks me on iOS is not being able to see file suffixes. I have a Pages document, and save it as a Microsoft Word document that I can send to others. In Files, I see two files with the same name.
I recently discovered I can make a shortcut to show me the file suffix.
Create a shortcut, and press the "…" icon on the upper right side. Make this shortcut a share sheet and give it a name. For example, "Show File Suffix".
Change Accepts to File.
For the first step, Click on Documents, under Files is "Get File Details".
It'll say "Get File Size from File.
Press File Size and select File Extension.
Press File and select Shortcut Input.
Add the second step. Under Scripting is Notification. Select "Show Notification". It wil say "Show Notification Hello World. Delete the text Hello World. Under the Variables shown above the keyboard, select File Extension.
Save the shortcut. Now when you are you need to find a file extension in Files, you can click and hold the file name, select Share, then select File Extension from the share list. You now see the File's extension.
Hopes this helps others.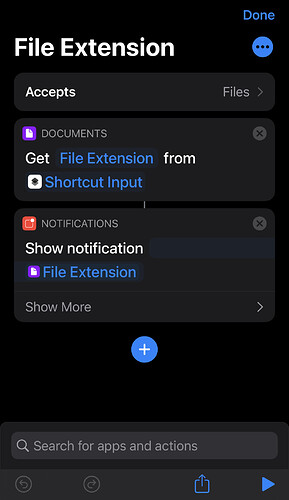 Shortcut Program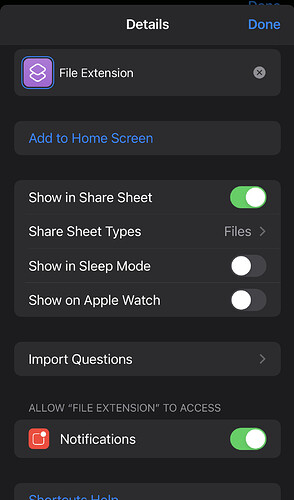 Shortcut Attributes