I've got a very strange situation that cropped up 36 hours ago. I've been backing up my laptop via Time Machine to an external drive attached to an iMac, the iMac being used as a server. Everything was set up per instructions in Joe Kissell's Take Control Of Backing Up Your Mac, and it's all been working well for years. Two nights ago, though, the laptop hard crashed waking from sleep, and since then Time Machine hasn't been able to back up.
Backup will start, and then while it's preparing I'll get a straight-out incorrect warning that I'm attempting to back up an encrypted disc to an unencrypted one:

The laptop's never been encrypted, though; I've never touched FileVault. I double-checked, afraid that the hard crash had corrupted something, but according to System Preferences I'm still unencrypted: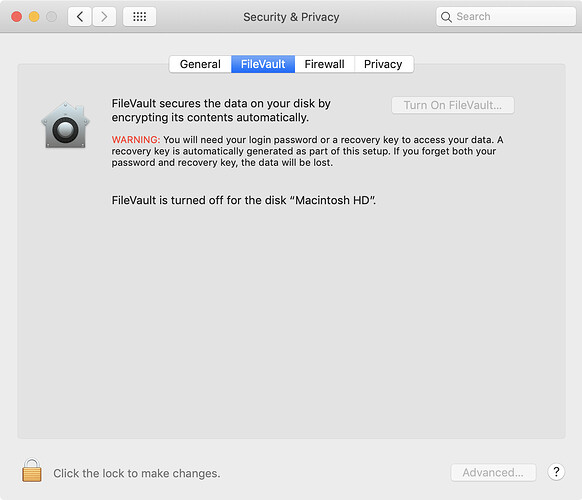 Shortly after that, the backup will just stop, without any further error message. Time Machine preferences will just say that the last backup was two nights ago, and the next backup will begin in an hour. If I wait 'til then, or try to force a backup now, the same thing happens again.
Anyone else ever see this? I've tried restarting both the laptop and the iMac, I've double-checked the Sharing preferences on the drive that's being backed up to, and I've deselected and reselected the backup drive in TM preferences, but I can't get Time Machine to back up any more.
Annoyingly, this all happened just before I upgraded the OS on the laptop (Mojave → Catalina, an upgrade I've been putting off for an unreasonably long time, and it took me quite a while to figure out workarounds for all the 32 bit apps, including the 25 years of email archives locked up in PowerMail). I've got a bootable duplicate of the laptop on a separate SSD, but now I'm loathe to upgrade when my Time Machine backups seem to be on the fritz.