On my iMac18,3 of 2018 the tool iStat Menus shows me that my SSD has only 69% Lifetime left (see attached jpg).
The iMac has a 120 GB SSD and 2 TB HDD.
I am running (still) High Sierra.
Is there reason to be worried that the SSD might fail in the foreseeable future?
Which software tool would you recommend for checking the health status?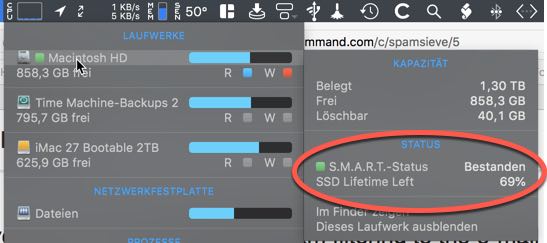 Meanwhile (2 weeks later) Carbon Copy Cloner reports read errors on iMazing backup files and a few Parallels Desktop and other package files.
Disk Utility does not show any errors.
Anybody around with a suggestion for a reliable disk diagnostics software tool?