The battery in my iPhone Xs, IOS 13.4.1 usally decreases 12-13% overnight. All Mail accounts are set to Fetch and I have ceased "force quitting" apps.
Twice in the past five (5) days Siri has has consumed 45% of the "Battery by App" during the night. I have disabled Siri at every place I can find under "Siri & Search." When I hold the Siri activation buttom on the right side of the iPhone Siri does not respond. This indicates to me that it is indeed turned off/disabled.
I am open to any suggestions and do not understand why Siri would uses this much of the battery. Occasionally, I speak replies in response to Messages or Mail. But I don't do this all night.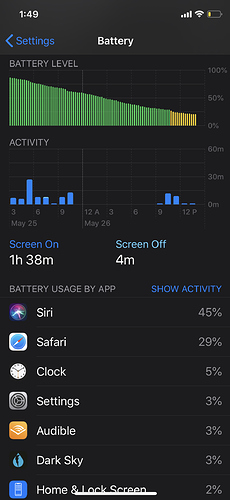 Thanks for any suggestions.