Originally published at: Safari 16.3.1 - TidBITS

Patches a security vulnerability in Monterey and Big Sur. (Free, various sizes, macOS 11+)
Hi. I just updated to Ventura 13.2.1. Safari remains at 16.3. I restarted to see whether that would prompt an update, but it didn't. I've checked via Get Info, but the version seems to be 16.3. Any suggestions?
I'm having this issue too.
Probably a general glitch, then. Thanks for letting me know.
Safari 16.3.1 was released for Monterey and Big Sur. I think it remains at 16.3 for Ventura?
David
Oh, I missed that. Thanks.
You have the Safari 16.3.1 update if your BuildVersion is
Ventura = 18614.4.6.11.6
even if the version number says 16.3.
When I check "about Safari," is says Version 16.3 (18614.4.6.1.6). I d on't know how to check the build version for Ventura itself.
Sorry I wasn't clear. I did mean the build number for Safari 16.3.1 for Ventura is 18614.4.6.11.6, so you still have Safari for Ventura 16.3.
You can get the build number for Ventura by checking "About this Mac" from the  menu and clicking on the version number in that dialog box. It should be macOS 13.2.1 (22D68) after today's update.
Thank you. I really appreciate learning that. And the version # is as you said.
Thanks, Adam. I really rely on your articles.
Thanks for clarifying this for me. Better than Apple Support on Twitter could do, LOL. I'm comfortable I have the newest Safari then.
FWIW, the Safari update I just installed for Big Sur also reports itself as 16.3 (build number 16614.4.6.11.6).
I assume this the same release, compiled for Big Sur, since the build number is identical, not counting the second digit.
On my macOS Monterey system, the version number also lacks the ".1" used in the support article. In Safari's About dialog: Version 16.3 (17614.4.6.11.6, 17614).
My guess is the first two digits of the build number in the parentheses correspond to the major macOS version, since they're 18 on Ventura, 17 on Monterey, and 16 on Big Sur.
Further to the version numbering issue, I compared two versions of Apple's page about the security content of this release (About the security content of Safari 16.3 - Apple Support) - Google's cached version dated 13 Feb and Apple's current version dated 14 Feb. We can see that Apple removed the ".1" and added a footnote about build numbers.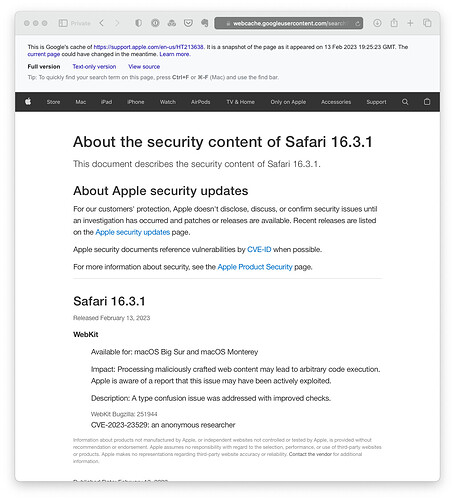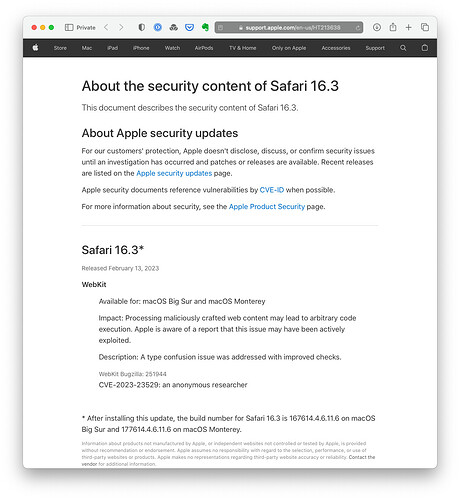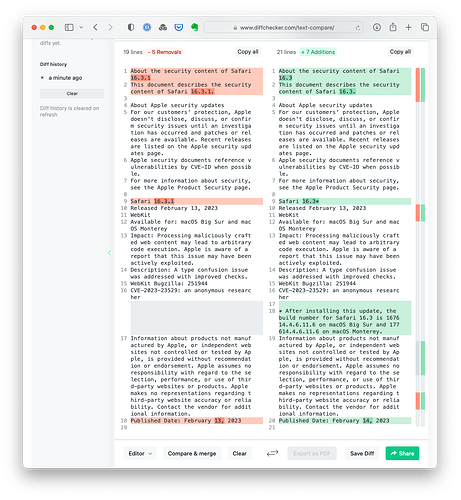 MacRumors is correct. Sorry, I was misinformed by a usually reliable source.
Hey there, While everyone seems to be trying to decipher the real version number for the latest release of Safari (the deciphering required being an embarrassment for Apple, IMHO), I believe so far, no one has mentioned the latest copyright year (when invoking "About Safari"), is listed as "2022", not "2023", as it should be. An additional embarrassment for Apple.
Thanks very much Adam for this post and Al Varnell for your information. That was me (LCD) yesterday on Mac Rumors. My post at 6pm brought this problem I was having to their attention. At 1pm today a moderator in the forum named Nermal wrote that he knew nothing about it. Then KaliYoni wrote an hour ago about this forum here on TidBITS when I saw Al's posts.
And just to add more confusion, I just installed the Big Sur 11.7.4 update. Immediately after the installation, a Safari update became available. This one is version 16.3.1 (16614.4.6.11.7).
And it still has a 2022 copyright notice.