I'm curious what people recommend for computer speakers these days.
For the last 15-20 years, I've been listening to music from my Mac via a pair of Altec Lansing speakers that sit behind my monitors. There's no room on the desk to get them in front of the monitors, so I point away from me to bounce sound off the wall behind them. There's also a subwoofer on the ground, and a wired controller that makes it easy for me to adjust volume with a knob (I far prefer knobs over any other type of control for volume) and turn the speakers on and off with the press of a button, which makes it easy to silence everything for a conversation or phone call without fiddling with Music or Control Center or SoundSource.
In the interests of radical transparency, here's what my setup looks like, without any effort to clean up.
(The top picture shows my main 2020 iMac and Thunderbolt Display; the second picture shows a 2014 iMac that I can theoretically use sitting down, but I very seldom do.)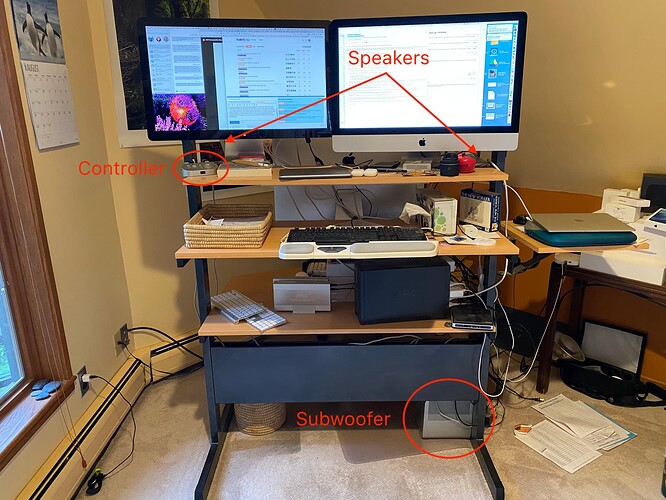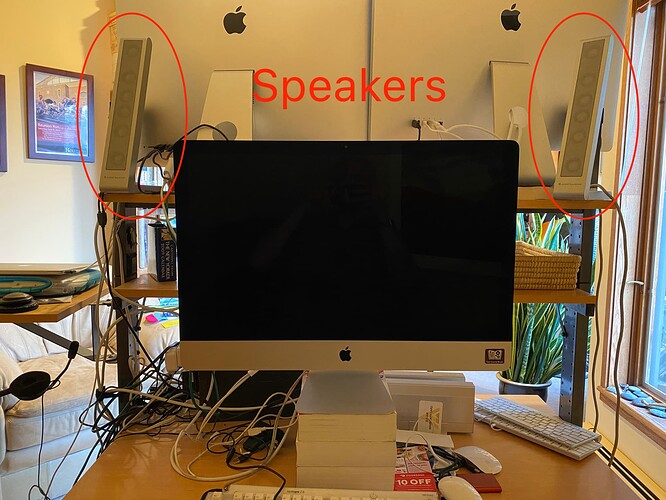 The Altec Lansing speakers, or at least their controller, seems to have given up the ghost. It cuts in and out, the power button works unreliably, and the volume knob often does nothing at all. It just happened suddenly, with no changes I can think of. I may try to open it up and see if there's an obvious loose connection or something, but I'm fairly weak on actual electronics repair (as opposed to simple parts replacement).
It turns out that I dislike listening to music through the speakers of either the iMac or the Thunderbolt Display. They're just not centered properly so the music is always coming from off to a side. I've actually solved that now using a Multi-Output Device with both sets of speakers created in Audio MIDI Setup, but the jury remains out on whether or not that will be acceptable as a long-term solution. I'll definitely be writing an article about this—it's an interesting capability that I had never before explored with some unexpected issues and fixes.
One obvious solution is a HomePod or HomePod mini. I brought one of ours into my office the other day and put it behind my standing workspace (in front of the old 2014 iMac on the backside of the desk) and it worked well enough. I liked being able to control it via Siri, and I liked having the music not quite so close me, but I didn't like not being able to mute it with a tap (since I couldn't reach it easily enough). If it were closer, that would work, but it would then likely be too close again.
So I'd like to know what external speakers you use for listening to music on your Mac, how you like it, and if you would recommend it. I primarily listen to classic and alternative rock, and I don't have great ears, so it doesn't need to be the absolute best quality. I do think I'd like to recreate my two-speaker plus subwoofer setup, since I'm already missing the extra bass from the subwoofer. And I very much want a separate controller so I don't have to find a key on my keyboard (yeah, I know I can improve this with Keyboard Maestro, and I might still) or click a tiny control onscreen to mute.