I just added this wonderful new incarnation of TidBITS Talk to my favourites in Safari. I was surprised to see the graphic used for the site in my quick access is the old TB logo: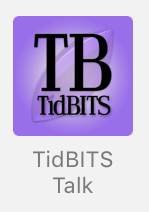 I think this the 'Apple Touch Icon' resource? Has this been updated (as I know the favicon has)?
By the way, I love the new logo, it's excellent!