For those interested in nerdy details: After I updated from High Sierra to Big Sur a few months ago my Anaconda installation didn't work any more. It turned out that it has moved to a folder on my hard drive that was nested within a folder on my hard drive. Here is the pop-out when I Command-click the title bar of that folder: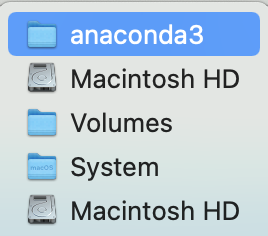 I haven't seen anything like this before. Some other folders at the same level behave like the anaconda3 folder (e.g. "boot", "Documents") but others don't (they are just within one "Macintosh HD" drive).
Apart from the Anaconda Navigator not working, I cannot even navigate to that folder in Terminal. Eventually I "solved" the problem by installing Anaconda again, but this time it ended up in an invisible folder in my current User folder.
Questions: is this normal on Big Sur? Anybody seen this? Does it have / need a fix? (I have two Anaconda installations now, each a couple GBs, so I assume I can delete the "nested" version now).