I've been using Apple's Mail, with varying degrees of frustration, for many years as I've not found anything that serves my purposes as well. I upgraded to Big Sur a few weeks ago, without difficulty. Yesterday, suddenly, the mainstay of my use of Mail has stopped working. It's a smart group containing unread mail in any of my inboxes that's not already been filtered into other boxes: screenshot attached. Now, it just shows empty all the time. Another oddity is that searching has stopped working, finding no results. I've run DU over the disk, which is fine; and I've deleted and rebuilt the Spotlight index, but it's made no difference.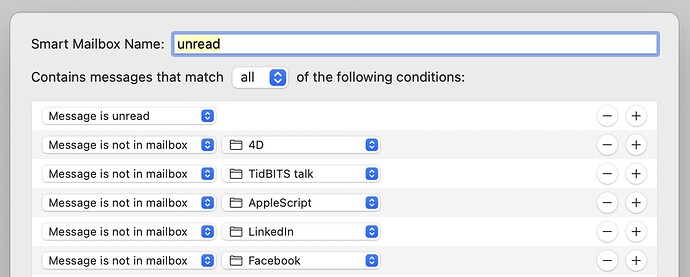 I have an iCloud account, one Exchange and three or four Gmail.
Any ideas? Or should I just use this as the spur to switch to a better app?
Jeremy