So – I've noticed something unusual with my iPad over the last month or so. Generally, I plug it in to recharge overnight. I take it with me to work, but often don't need to use it there and I don't really pull it out and start using it until I'm home in the evening. Historically, when I opened it in the evening the battery level would be around 98-99%, which is reasonable given that it's been untouched in its case all day.
Lately, though–I believe since the iPadOS 13 upgrade–when I pull it out in the evening the battery level is in the 65%-70% range. I have no idea what it's doing – if I go to Battery… Settings, it shows almost no screen time and doesn't show any app as being responsible for my battery usage: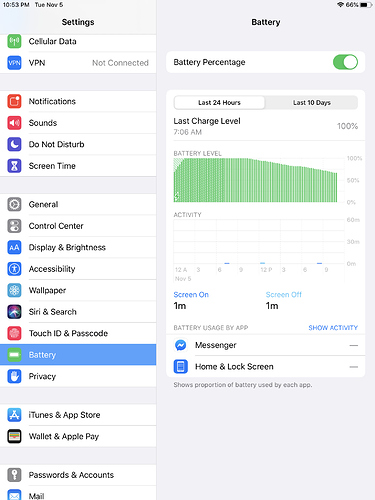 I shut off "Hey Siri", in case something about the active listening was responsible, and it made no difference. I have restarted the device a few times, in addition to the restarts when I've installed updates. No luck–the idle machine in its case is still burning through battery at a reasonably steady pace every day. In the past under iOS I've had occasional problems with a mail account burning through my battery, but in that situation Mail showed up as the culprit in Battery Info.
This is a 9.7" iPad Pro (the first generation of smaller iPad Pro), currently running iPadOS 13.2.2.
Any thoughts, troubleshooting suggestions, or similar experiences?
Thanks!
Dave Scocca