I will soon need to replace my primary weather app, Weather Line, as it goes dark in early 2022.
I have Dark Sky which is also going dark, but in about a year.
I have other weather apps on my devices: Weather Strip, Snowflake and The Weather Channel. I don't like them for a variety of reasons, mostly that the display is too busy or that I can't see a multiple overviews quickly (see picture below).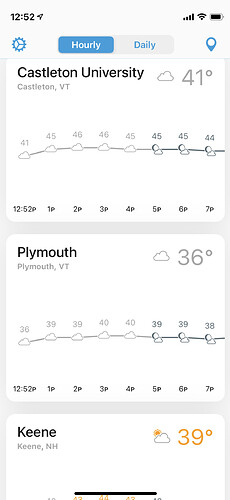 There are about a million weather apps out there, but I'm interested in ones that are clean, clearly presenting the pertinent data (see the shared strip view below).

I could try some of those million weather apps, but if people have favorites and could share both why as well as some screenshots, that would be better than relying on reviews and developer-picked screenshots.
And, I'm sure others who are looking would benefit from the discussion.
Thanks.
Cheers,
Jon