I heavily use the Reminders App on my iPhone. I can say things like Remind me to take the baby out of the trunk when I leave the car, and when I turn off the car, the reminder is automatically set.
I'll put in reminders to call or mail someone, and I'll put in the notes the phone number or email address, so I don't have to look it up. However, I was upset that Apple's data detection couldn't detect these items. I would have to copy them, open the telephone app or email address, then paste in the address or phone.
Recently, I realized that I could use the URL field too, and I could put in the URL scheme to specify whether it's a phone number, email address, or even text message.
Here's putting in a clickable telephone number. Note that the phone goes into the URL field and not the text field: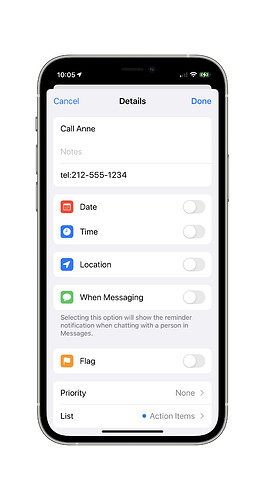 It also works for text messages and email too, but doesn't show a nifty action icon: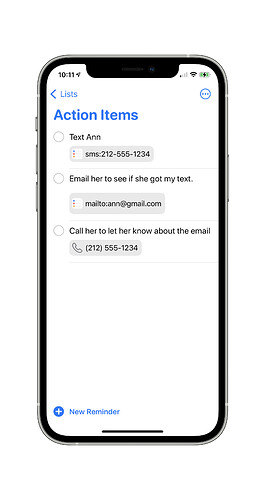 This probably also works for other apps if you know the URL scheme used. The only downside is that you have to open up details to put the information in, and you can't do it through Siri.