Hi folks!
I have what I think is an iPhone X that "someone I know" dropped, resulting in a screen that looks like this: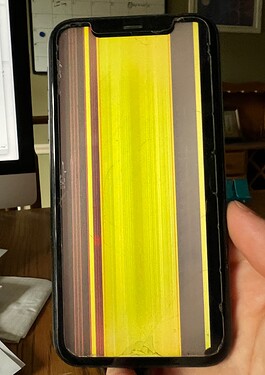 They now have a replacement phone. But I'd like to get a few bucks for it from someone who can fix the screen and make it useful. But first I need to reset it. Connecting it to Mac shows nothing in the Finder. Perhaps the screen is prompting Trust This Computer? which I cannot see.
Others say to go to iCloud.com and Erase the phone from there. But in my list of devices, which are many, I don't think this device is shown. A couple of their old phones show Offline and do not respond to the Play Sound feature; so if it is one of those devices, and PlaySound doesn't work, then I'm guessing Erase won't either. Or, the device I'm dealing with is not in that list at all for some reason.
Someone else said to hold down Home and Power for 30s, but no combination of buttons held for 30s seems to do anything I can detect.
This is all exasperated by the fact that this failure happened maybe a year ago, and so I have less recollection to what I'm dealing with here.
In any case, whatever data is on this device, I need to get it off, and it would be nice to not have to resort to a sledge hammer to do so. With all this technology, I feel like I may be living in the Dark Ages.
Any advice is welcome.