Hi there! I haven't been tracking my finances since a long time and the last time I did it I used YNAB (which is just about budgeting). I have did some research but I'm having like choice paralysis or something because I just can't find one that clicks.
I'm looking for the following:
Track subscriptions and bills that I have to pay each month or each year. This way I can also see how much I'm spending in subscriptions.
Add transactions that happened during the day.
Lets me add cash , credit and debit cards . I'm from a country where most of the apps don't support connecting to my bank, so I don't have a problem with doing things manually.
Allows me to create saving goals. Maybe I want to save money for a vacation or my next macbook, or maybe the next birthday of my partner.
Preferably don't be another subscription.
I don't have money invested in anything, so I don't need that function. Also, I don't need an app on my iphone to add things on the go. I usally carry a small notebook to jot things like that.
I made the following map while trying to see what app to use: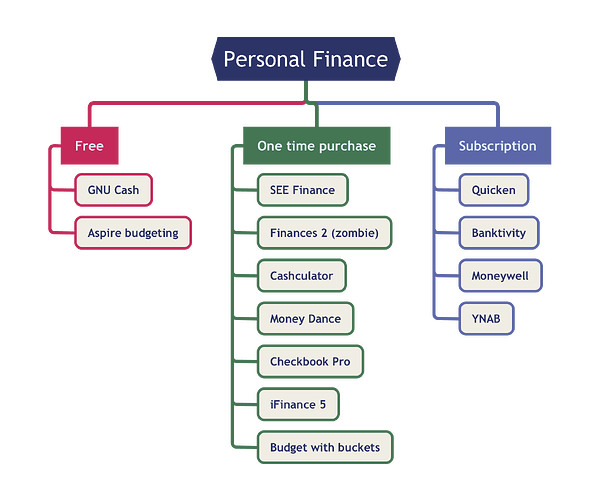 Personally I got interested in: Cashculator (liked the spreadsheet UI), iFinance 5 (seems complete and looks nice), MoneyDance (looks complete but there's not good documentation and I found it unintuitive), Checkbook Pro (I liked the spreadsheet UI).
Apps I didn't like: MoneyWiz (I didn't like their UI and the documentation is a nightmare), YNAB (just focused on budgets), MoneyWell (like YNAB but for mac and sub), Finances 2 (no longer maintained)
I also found SEE Finance 2, but haven't tried it. Also, on this forum I found this post from MacAttorney which was helpful but a lot of apps pointed are dead.
Thanks for your help.