((( NOTE: Anyone using Google Chrome should update to the current version NOW for security reasons. You should be running at least 99.0.4844.84. Check the last digits carefully because ".82" and ".83" were released a few days before. News link below. )))
…
Now that we all have our updates and adrenaline flowing, I wanted to highlight the massive app size increase of v99.
Google Chrome 99.0.4844.51 stable release for macOS desktop (officially promoted March 1, 2022) increased the app size by over 85%. Here is a side-by-side comparison of the first v99 next to the previous, and final v98 release: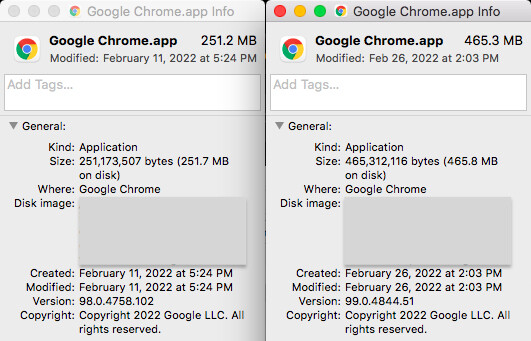 (Screenshots based on clean downloaded apps from their mounted .dmg files.)
That is an increase of over 214 MB.
Any thoughts about what might account for such a large change in v99? Digital steroids?
Interestingly, on systems with custom firewall security software such as Little Snitch, launching v99 triggers not only the usual "ksfetch" (auto-update engine) and "Chrome Helper", but now there are also a pair of "Chrome" hits that both want to access 239.255.255.250 (SSDP multicast address). Denying them blocks Google Chrome from accessing the internet.
(Disclaimer: I am not a fan of Google Chrome and use Firefox as my primary browser. Firefox is plenty fast and does not try to scan, catalog and sell every aspect of my activity. Security, privacy and options are paramount.)
[EDIT: Added notation on screenshot source from .dmg files downloaded from:]
https://www.google.com/chrome/?system=true&standalone=1&platform=macos