I've noticed that for a few weeks (months?), I have not been able to use the Find My app on my Mac (running Big Sur). I can find all my devices on my phone (running the latest iOS), but when I use my Mac, I get the following error: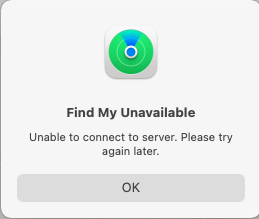 And almost all of my devices and friends report "location unavailable" on the map.
Ordinarily, I'd assume this is a server problem, but my phone has no problem. And this has persisted for quite some time.
My working theory right now is that Apple changed the back-end of the Find My server in a way that breaks Big Sur, and they chose to not upgrade the Big Sur app to remain compatible.
Does anyone here know for sure? Maybe a press release or other Apple announcement?
Yes, I need to upgrade this Mac. I've been planning to upgrade to Monterey since December, but I haven't gotten around to it yet. I'm still uncertain about whether I want to run Ventura at this time.