A family member bought their new iPhone 12 Pro from Apple using Apple's 24mth interest-free credit supplied by Barclays Partner Finance on Apple.com.
However, they had a major issue trying to get a digital copy of their finance agreement from Barclays, and as Barclays were giving them the run around on supplying them the legal document, wrote a complaint Apple (contactus.uk@euro.apple.com ) about it.
Apple's completely gibberish response was this…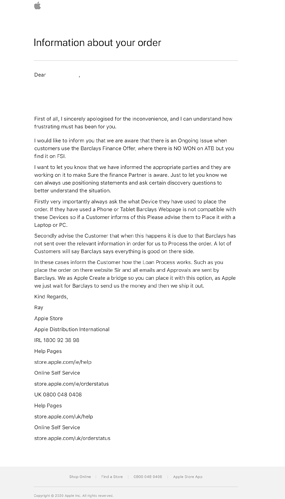 Choice quotes:
"…Ongoing issue…where there is is NO WON on ATB you find it on FSI."
"Just to let you know we can always use positioning statements and ask certain discovery questions to better understand the situation."
"Such as you place the order on there website Sir and all the emails and Approvals are sent by Barclays. We as Apple create a bridge so you can place it with this option, as Apple we just wait for Barclays to send us the money and then we ship it out."
What on earth are they going on about?? Either gibberish or completely irrelevant.
Either they're taking the mick here (or is this some specialist Apple Support rep language, only spoken by certain Apple people?). Who knows. But if this the level of support Apple give now, it's truly appalling.