Good article…with links for software (the Airport utility) that isn't compatible with the current version of MacOS – see screenshots.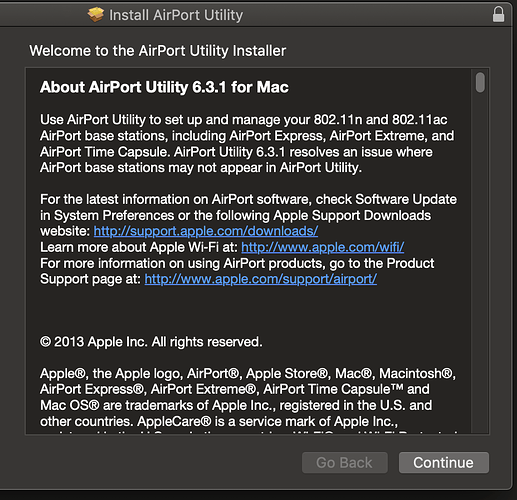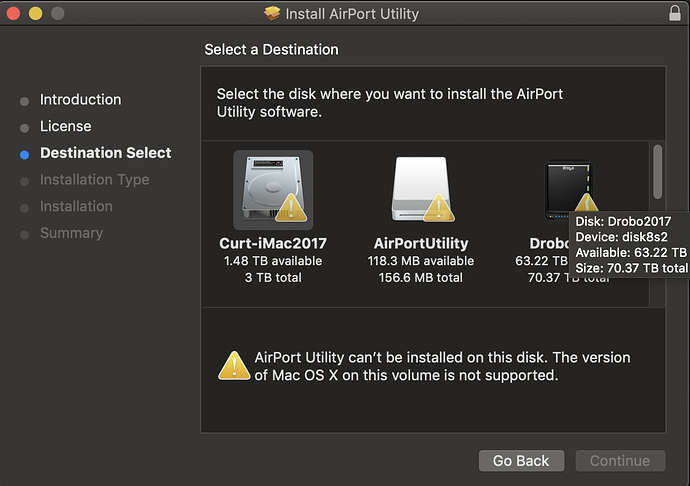 Whoa, that's freaky! I imagine Apple wasn't thinking that people would need to install AirPort Utility at this point. @glennf, have you seen this?
Do you have an iOS device you can try instead?
Huh! I didn't notice that happening. However, I have version 6.3.9 on both my Macs. (On one Mac, it has a weird double window: there's a window embedded into the AirPort Utility window also named AirPort Utility. No idea why that happened.)
I cannot find a download installer later than 6.3.1. This must mean that Apple assumes you have the version that was installed with a macOS update. So you could copy this from someone else with Mojave. You would have had to remove AirPort Utility manually, as it's included in each OS update.
iOS AirPort Utility is really the only option if you don't have access to another system running a later version of macOS.
I would agree that links to Airport Utility should probably not have been included, but each OS includes the correct version in /Applications/Utilities/ already, so there should never be a reason to download anything new (unless you mistakenly were able to delete them) in order to update the 802.11ac or 802.11n base stations.
Used IOS
Thanks for quick reply…y'all are GREAT.
El Capitan has Airport Utility 6.3.6
Sierra has 6.3.7
High Sierra has 6.3.8
Mojave has 6.3.9
Based on that AirPort Utility 6.3.1 is from Snow Leopard!
Actually…
System Requirements:
OS X 10.7.5 or later
OS X 10.8.3 or later
Yeah, I took them out. It's not common that providing links causes more questions than it answers!
I'm keeping an old Mac running Snow Leopard—the latest version it supports—because my High Sierra Mac's Airport Utility can't talk to my older (white flying saucer) model Airport Extreme. Wondering if there will be a way to install this firmware update.
Your older model Airport Extreme is unable to be upgraded with either of these firmware upgrades. They are only for 802.11ac and 802.11n models.
Ken, unless that really (really!) old AirPort base station is behind a firewall, it poses a security risk. In the decade-plus since that device has been discontinued, a myriad security vulnerabilities and fixes have come and gone. My advice would be to replace it a.s.a.p.