Not being a professional photographer, I've always used consumer-level printers with my Macs to print colour photos, and have usually got very acceptable results simply using the available driver and not trying to adjust the colour at the printer end - instead I make my adjustments in image editing software like Acorn, Pixelmator Pro, Graphic Converter, Apple Photos.
Lately I've found that my current Canon printer is printing some (not all) photos way too dark, and I wanted to influence that by managing the colour output of the printer. But I can't because these printers simply want you to use AirPrint, which is a driver with no user-level adjustments at all. Not so long ago, Canon made drivers that did allow colour management (see screenshot)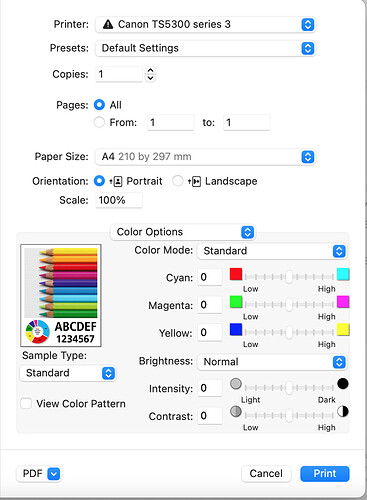 , but they don't work with current printers. I know that far more expensive printers come with drivers that do more than I could possible need, but I just want to stick to the cheaper end of the market. Has anyone got any idea how to get around this?