I use Feedler Pro for reading RSS feeds. Some strange stuff is happening on it, but not in Safari when I load the page directly in Safari, and only in certain websites. Ars Technica being the biggie.
When I pull up a webpage of the feed in Feedler Pro, certain video ads automatically run, and thus taking up the whole screen. This only started with iOS 17, and it doesn't happen with Safari.
Now, I'm getting security warnings from Optimum when I pull up an article. But only in Ars Technica and not every time. I get this pop: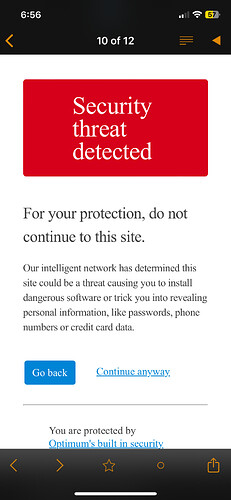 If I press the back button, it disappears and I can read the article. If I click on Continue anyway, spammy popups load — usually a fake MacAfree scan and a warning my device is infected. Sometime there are multiple popups.
This only happens in Feedler Pro and not in Safari.
Any idea what's happening? Is Feedler Pro injecting ads? Or is Safari blocking something that Feedler Pro can't?