Good Afternoon…I have posted about this before but wanted to try again as I didn't get a reply or response. I fear, however, that my question or concern is a bit mundane or pedestrian. But, here goes.
Caveat (perhaps): I do not subscribe to Apple Music (I use Spotify).
Prior to Catalina, using iTunes, whenver I added a song to a playlist, iTunes simply scanned and noted the addition of the new song and then synced that playlist. It was a simple and quick process, lasting less than a minute in most cases.
Now, post Catalina (I am now running Big Sur as of a month or so ago), if I add one simple song (like I noted earlier), the process lasts more than 20 minutes or more (I have about 60GB of music) as each and every playlist is re-uploaded to my iPhone rather determining if there any new songs or not and then removing or adding them.
This seems bizarre to me. I have trashed old preference files. I have culled my old iTunes folder thinking that maybe some old henky files were causing the problems.
If this is "normal" behavior I would appreciate hearing that.
Macbook Pro 2015 running Big Sur.
I have a couple of screenshots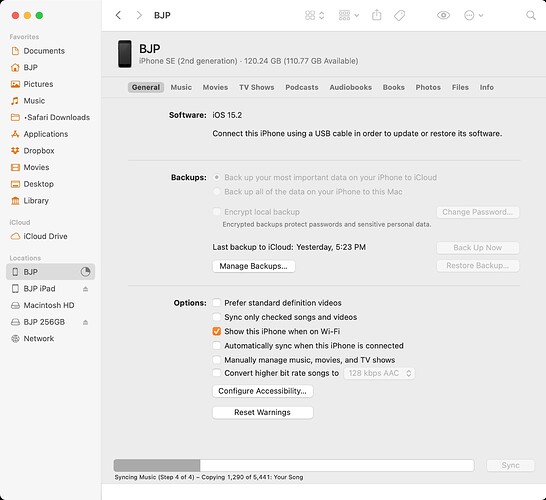 attached.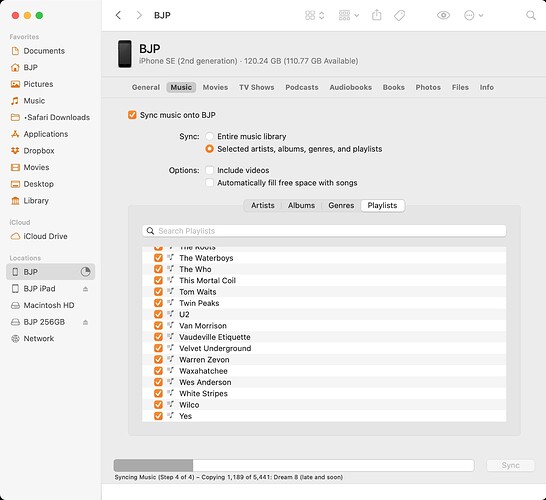 This sync issue happens regardless of whether I have the 'sync only checked songs or videos' checked in the 'general' tab.
I would appreciate any insight or thoughts on this.
Thanks,
Bruce