An age old problem is that the Open All With does not stick. Some apps seem to reset that. Adobe used to do it (one of the many reasons I'm not using Adobe apps much, only a four-year old copy of Photoshop Elements), and now XCode did it to my .gpx files.
In writing this post I noticed the Change All… which is what I thought selecting, in this case TextMate would do. "Use this application to open all documents like this one." seemed like it should to it. Change ll seems a bit redundant. I can guess that this means older documents keep whatever they were set to. But the situation that led me to this was a new .gpx document that opened in XCode (required an update since I don't really use XCode). I think XCode did a Change All…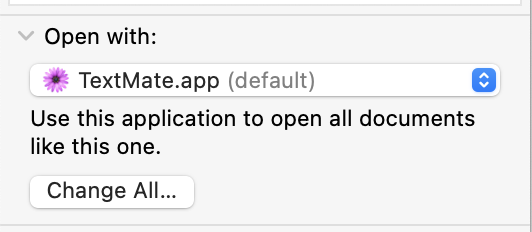 I see some referenced to lsregister, but that seems to be going deeper than this situation. Since this has existed for a decade or two, doubt it's going to change soon. Doesn't happen too often these days, but it does with other apps. Probably ones using a common extensions likes .jpg and .txt (somewhat obvious, .numbers isn't going to get mucked with).
I guess the question is can I make the Open With stick? I say guess, because it's probably out of my control. So maybe this gets counted as more of a rant.
Another offender is Nova, which I trialed (demoed), grabs .rb files. So maybe something with macOS that allows an installer to reset Open Withs without asking permission? If so, should file with Apple and wait five years for a fix.
I was thinking if I paid more attention I could tell my the thumbnail in the Finder, but sometimes the thumbnail is of the file not the app, so inconsistent interface.