I plugged my iDevices into my Mac (Catalina, with the latest updates) to sync photos today. The phone had no problems - Photos captured everything.
I don't normally take photos with my iPod Touch, but just in case, I plugged it in and it presented a "Please unlock" message: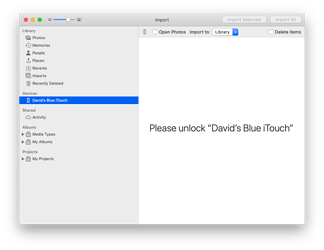 Needless to say, the iPod was unlocked. And it is communicating fine - I had just completed a sync using the Finder.
Searching for why I should see this message when the device is unlocked was not useful. Most references seemed to indicate a corrupt Mac or a corrupt device or having previously clicked "Don't Trust" at some previous time (which never happened), often referencing this support page: About the 'Trust This Computer' alert on your iPhone, iPad, or iPod touch - Apple Support
As it turns out, the answer is far simpler than that. There are no photos on the device. It's simply a case of Photos displaying the wrong message. I took a new photo and all of a sudden, it sync'ed fine. After deleting the photo and then unplugging/re-plugging the USB cable, the message came back.
I'll let Apple know about this via Feedback, but just in case anybody else has this problem, here's an answer I haven't seen elsewhere.