This is making me crazy, sure hope someone has an idea – I have not found any help by Googling or searching Apple's discussions.
Attachments to Apple Mac Mail messages show as "downloading" forever. Looks like this: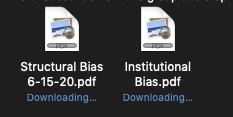 It's intermittent – frequent for mail from Google Groups, only occasional for other email. I tried Rebuilding mailboxes, seemed to work one place, not for others.
It's Mac Mojave, 10.14.6
Any ideas? TIA…